Report: restoring the connection between consumer and farmer
In recent decades, the human connection within our food system has all but disappeared. Consumers often have no idea who produced their food or where it even came from, let alone what the social and environmental implications of the production process are. Meanwhile, farmers have no idea where their products end up and what a consumer is willing to pay for it and based on which criteria. The only thing left for them to compete on, is price.
The radical transparency offered by blockchain technology has already been presented as a potential solution to reintroduce the human connection to our food chains. In this info sheet, we explore the ways in which digitalisation and blockchain technology can help bridge the gap between farmers and consumers, so that our food chains can operate on a more holistic basis.
This is an initiative by the Blockchain for Agri-food (B4AG) Community, a result of a partnership between Fairfood and CTA (Technical Centre for Agricultural and Rural Co-operation). The community exists of different actors in the agri-food sector who share blockchain learnings and work together towards a better food system. Both the community and community content are free and open for anyone to access. Join the community for weekly blockchain for agrifood news!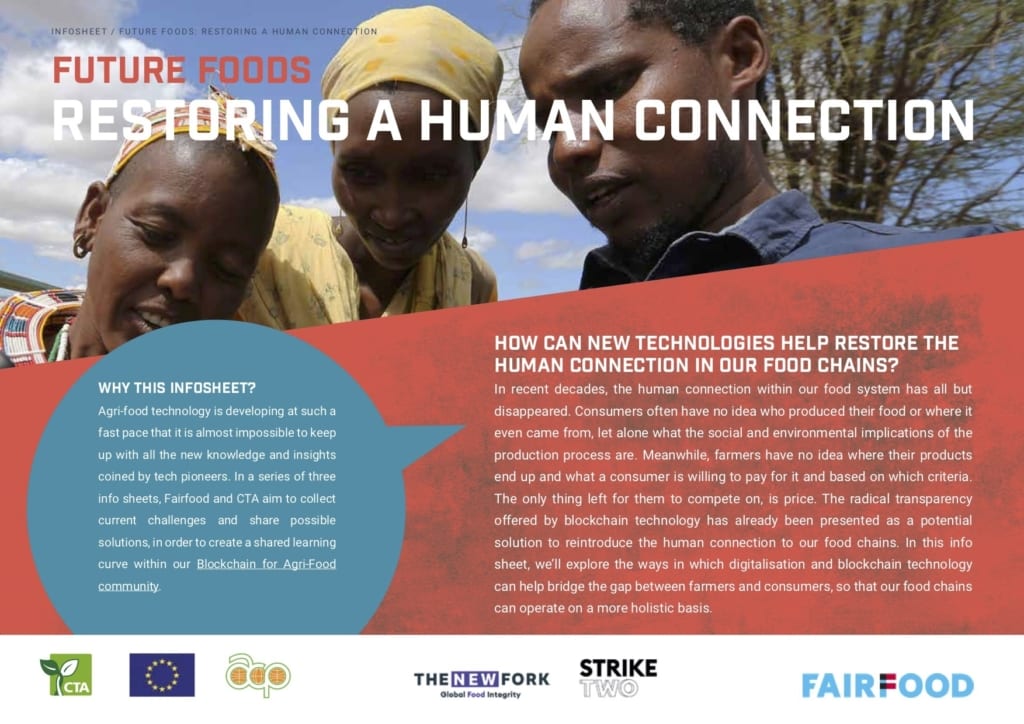 Laern more about blockchain for Agri-food
—
This article is made possible with the financial assistance of CTA (Technical Centre for Agricultural and Rural Co-operation). The views expressed above can in no way be taken to reflect the official opinion of CTA.